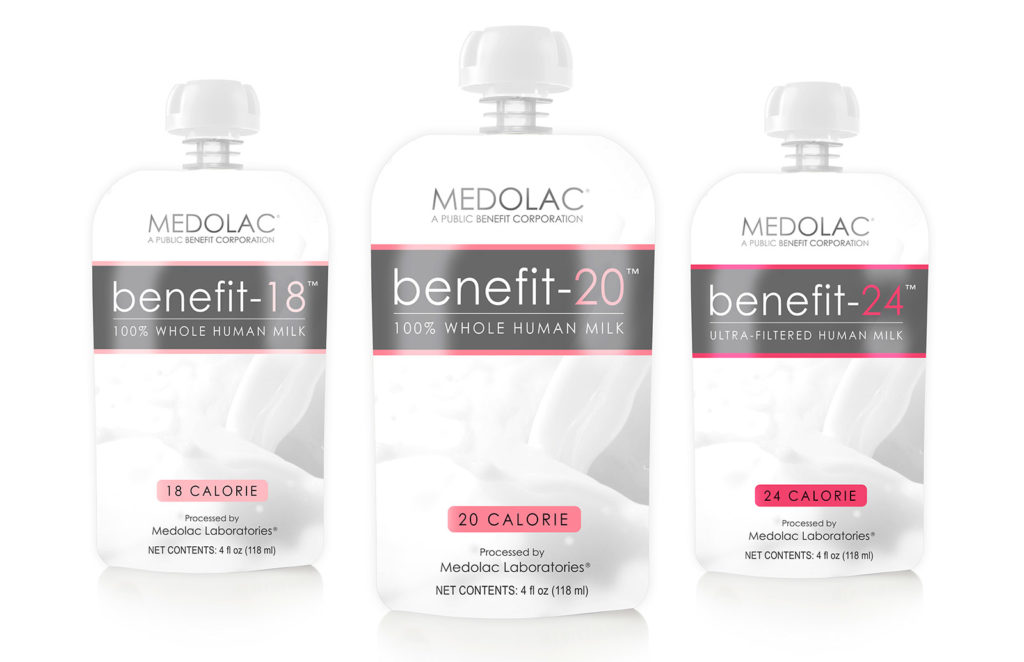 Why is human milk so important?
The problem for pre-term babies who don't get human milk is that they have a much higher incidence of illness and death.  A leading cause of death is necrotizing enterocolitis [NEC]. 50% of the babies who get NEC die. The cost of care is exorbitant and the unimaginable human suffering is even worse. 
Why doesn't every preemie get breastmilk?
• It's expensive and until now, the best quality donor milk cost approximately $15,000 for a one month stay in the NICU.  
• It is often in short supply because many milk banks suffer from on-going shortages
• The high cost has forced hospitals to restrict its use to only the smallest, weakest babies so only 10% of the babies in the NICU are allowed to have donor milk
Although mothers provide as much of their milk as possible, pre-term infants require 4 times more protein than mother's milk generally provides to support normal brain and tissue development. By formulating human milk to provide higher levels of much needed nutrients, Medolac provides precision nutrition for preterm babies. Mothers' own milk can be mixed with Medolac's nutrient dense donor milk products so babies receive special immune building factors only found in mother's milk.
At Medolac, we are setting a new industry standard with our affordable, premium quality human donor milk.
Innovation has been at the heart of Medolac since the beginning.  It is one of our enduring values.  
With this commitment to innovation, we created a shelf-stable delivery system, achieved the highest level of safety with commercial sterilization and reached a scale never before realized. That's why we are able to dramatically improve access, affordability and quality of nutrition for the most fragile infants.
We think this says it all.
Medolac: A Better Choice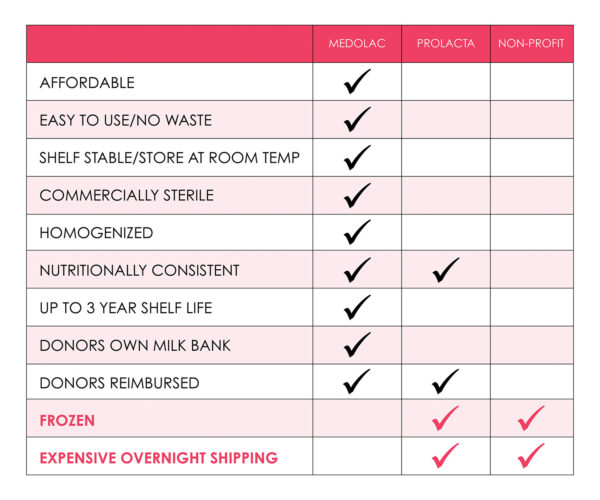 Our Most Important Commitment is to Quality & Safety
We are proud to say our quality is unsurpassed.  We formulate our human milk products so they are nutrient dense with consistent nutritional value in each package. Major and minor nutrients, amino acids and many immune factors are retained. [Data available upon request]
All our products are homogenized to reduce the size of fat globules so they are more evenly distributed throughout the milk.  We are the only ones who do this.  This is especially important for babies who are very low birth weight [VLBW].  Research shows that homogenization improves the absorption of human milk fat. Read Article
There has been a lot of discussion about the safety of pasteurization.  When we developed our product we wanted to make sure it met the highest levels of food safety. That's why we use commercial sterilization, instead of Holder pasteurization. Sterilization eliminates heat-stable toxins and spores that are not completely eradicated by Holder pasteurization.
Raw milk is frequently contaminated with potentially pathogenic organisms and many cannot be destroyed using Holder pasteurization. Unfortunately, many milk banks do not test raw milk prior to processing, citing cost and waste as the reasons.  
We are particularly concerned by studies stating Bacillus cereus remained after pasteurization.  These spores present a potent risk to infants, especially pre-term infants.  Other organisms such as S. aureus produce heat stable toxins when colony counts exceed certain levels.  Read Article
Another issue with donor milk that is only pasteurized is the nutrient content can be variable, making promotion of adequate growth challenging. Poor growth rates in very low birth weight (VLBW) infants can have neurodevelopmental implications. Read Article
The True Cost of Donor Milk
There's more to cost than price per ounce: 
• A 35-bed military hospital NICU conducted a cost analysis which found that they saved nearly 40% per year by using Medolac's shelf stable, ready-to-use human milk instead of frozen
• When calculating the actual cost of use, instead of just price per ounce, the hospital saved $12,193 per year with Medolac
• Medolac's price can be further reduced through volume discounts
Hidden staff costs: 
• Hidden costs of using frozen donor milk include staff time for locating and ordering, placing in freezer, thawing, mixing, labeling thawed milk, monitoring milk for expiration, and discarding wasted milk. Staff time costs in the study were for thawing activities only.  
Shipping:
• Frozen milk requires overnight shipping.  These costs are, however, sometimes hidden because the vendor uses the hospital's freight account, thus giving the appearance that shipping is free.  Medolac milk is shipped as regular ground freight and is included in the price per ounce.
Waste: 
• In most cases, hospitals discard thawed milk 24 hours after opening which unfortunately, results in waste.  Medolac milk can be kept for 7 days in the refrigerator after opening.
Nearly 40% Less Expensive with Medolac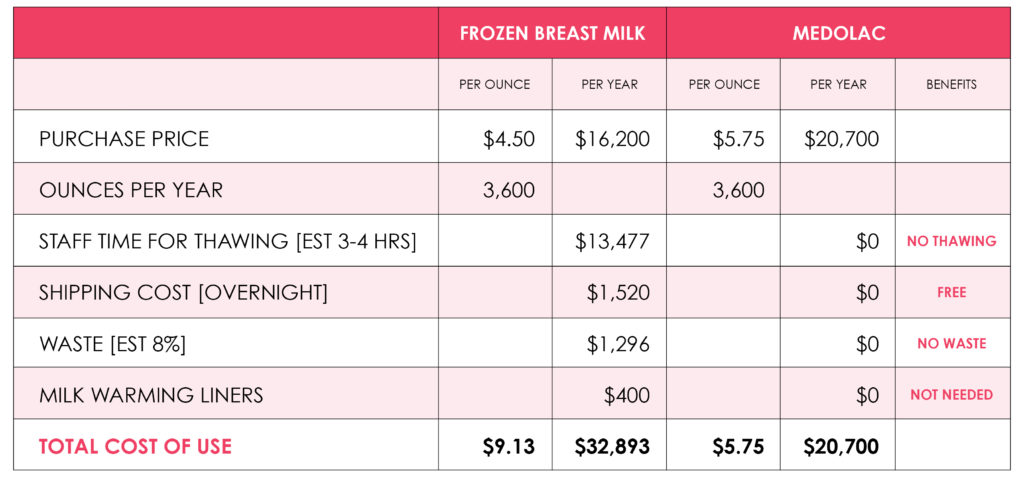 The Medolac Product Line
We are the only company in the industry that uses shelf stable packaging. That means no thawing and no waste.  Our milk is ready to feed and after opening, will last in the refrigerator for 7 days. Our product is shelf stable for up to 3 years so there should never be an availability issue.
Per 4 oz. / 118 ml
Calories   72
Protein    1.2
Fat            4.1
Carbs      7.6
Per 4 oz. / 118 ml
Calories   80
Protein    1.2
Fat            5.1
Carbs      7.6
Per 4 oz. / 118 ml
Calories   96
Protein    2.3
Fat            5.4
Carbs      9.5
Our Process
• Controlled temperature thawing system 
• Commercial-sterility kills all bacteria, virus and spores 
• High temperature, pressure and rapid cooling
• Shorter time exposed to heat than Holder Pasteurization 
• Hermetically sealed pouches
• Raw milk tested before processing 
The Medolac Facility
All our donor milk is processed in a 50,000 sq foot state of the art facility that:
• Follows FDA Current Food Good Manufacturing Practices (CGMP) 
• A State-licensed food processing facility
• Federally registered for low acid food processing
• Class 100,000 clean room with Environmental monitoring 
• Clean in Place System (CIP) and Biofilm Prevention Program
"You never know how STRONG you are, until being STRONG is your only choice."
– Bob Marley